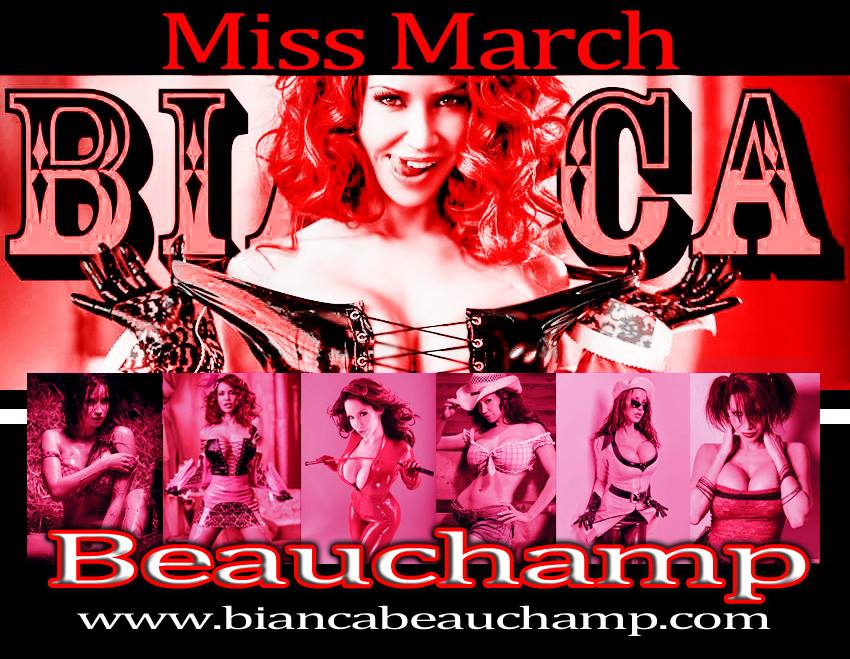 This March has a very special B-Day gift for yours truly… Miss March is non-other than alt-model/pinup beauty, Bianca Beauchamp…
Bianca is the star of her own line of sexy DVD's and has been the feature of many photoshoots . And now she's here for you to enjoy. So let's here more from this lovely Femme Fatale in her own words…
"Bianca Stéphanie Beauchamp (born 14 October 1977) is a Canadian fetish and adult model, known for her glamour, erotic and latex modeling. cup size 32FF. In January 2008, Beauchamp was named 31st in Askmen.com's Top 99 Women of the Year, a popular "Hot List" for celebrities. The following year, she improved her ranking to 24th. In January 2009, she appeared on the cover of Bizarre magazine, her 9th cover for the UK magazine, confirming her lead as the model who appeared the most times on Bizarre
In 2006, Beauchamp released the self-published book Bianca Beauchamp – Fetish Sex Symbol which focuses on her modeling career as a latex fetish model.
In 2007, she released her film "Bianca Beauchamp: All Access", a reality-documentary directed and edited by her partner Martin Perreault. The 85 minute film was Premiered at Fantasia Film Festival in July 2007 and issued as a 2-disc Special Edition DVD in September 2007. The film was acquired by distributor HALO 8 Entertainment at the Fantasia Festival and is slated for a wide release in North America on January 29, 2008.
In August 2008, Beauchamp premiered "Bianca Beauchamp All Access 2: Rubberised " at the Montreal Fetish Weekend, with full red carpet treatment and a sold out theater. The DVD was released the same day.
She's travelled across the world for multiple photo shoots and to attend international fetish events, most of the time as Mistress of Ceremonies. She's continued to appear in magazines all over the world, from Canada, USA, Europe, and Australia, and broke the record at Bizarre magazine for being the model with the most covers (which She still held in 2011 with 9 covers to my name). In 2005 she was hired to play the main villain character for the videogame SIN EPISODES, for which she did a complete photo shoot and went to E3 to meet with the thousands of fans. Then after, she soon after released a DVD featuring 90 minutes of footage of my whole experience. In late 2000's, she also released on DVD two reality-films called BIANCA BEAUCHAMP ALL ACCESS and BIANCA BEAUCHAMP ALL ACCESS 2: RUBBERIZED, two 90 minute films following me and kinky friends at a 3-day international fetish event. It was at that time she appeared on ASKMEN.COM's Top99 Women of the Year, two years in a row, where she made it to position 31st and 24th! "
                                                                                                                               ~Bianca Beauchamp
Well needless to say if your computer screen hasn't melt yet from the heat Bianca give out, then let's turn up the fire with her featured (EXTENDED) pictorial here (NSFW D'Uh), on Geo's Vixens.

 Well, for those of you who still have a melted (but viewable) monitor, You're welcome! That was qute a pictorial indeed. And we're aren't done yet everybody… Because it wouldn't be a Geo's Vixen Feature without a pinup design by yours truly. Enjoy and all my thanks to Bianca for making my B-Day month totally kick-ass!!! 
MISS MARCH