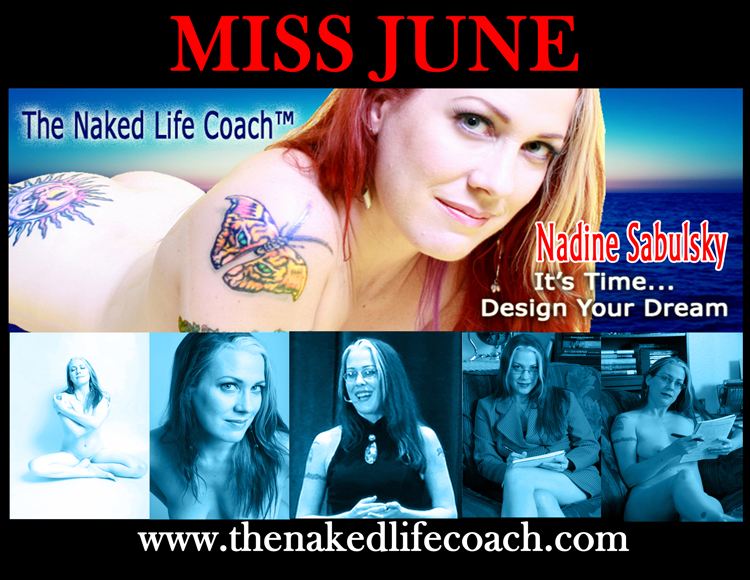 Well the summer is heating up and along with it is the feature for June here at Geo's Vixen. Nadine Sabulsky is not only a good friend of yours truly but she's also known as "The Naked Life Coach"and if you're listening to my podcast Geo After Dark, you've even heard me interview her as my special guest in my first Naked Interview (Yeah, that really happened!!! ) And now we're lucky enough to have her become one of Geo's Vixens.
She's an author of her own line of books to help you reach your goals in life, and she even teaches classes and seminars on how to do just that and open your mind through the process of getting naked… So let's hear more about this fiery redhead with a passion for helping you design you dreams and make them come true in her own words…
The Naked Life Coach.
Nadine Sabulsky is The Naked Life Coach™, Author and Transformational Speaker/Trainer.
"As a life transformation specialist, she helps goal-oriented people who want to achieve their dreams, but who are feeling stuck in unsatisfying circumstances, to change ANY OR ALL aspects of their lives with her unique Design Your Dream process of teaching simple strategies and techniques which anyone can use t… See More
Description
Welcome to Living the Naked Life.
Being Naked is about more than just the discarding of clothing. It is about discarding the need for protection of any kind, physical or conceptual. It is about "reframing" our lives around the knowledge that there is complete harmony in the universe! It is about embracing the abundance that is our birthright. It is about accessing our own divinity. It is about living with complete freedom and enjoying every moment of the experience.
"Living the Naked Life: 10 Ways to Expose Your Unlimited Creation Abilities" © 2011 by Nadine Sabulsky
Naked Life Coaching is a unique combination of:
– Traditional Life Coaching steps to take to achieve your goals
– Neuro-Linguistic Programming techniques to create new mental patterns
– Self-Actualization techniques to help you know yourself better
– Applied Quantum Mechanics to understand how you and the universe interact
Each session consists of both teaching the principles and the actual application of the principles to specific goals. Each session is highly individualized.
Naked Life Coaching is a process of learning how to live an open and free life, no longer a prisoner of fear. It is a holistic, all-natural mind/body/soul self-discovery and healing process. It is a process of learning how to use what some call 'faith'. Naked Life Coaching is a proven process to take back creative control over your body, mind and soul, and move forward in the expectation of success."
~Nadine Sabulsky
Well if that isn't enough to entice you to learn more… Let let's turn up the fire on this hot summer Vixen feature in a pictorial of The Naked Life Coach. It'll be very clear to see, she definitely has set her naked life coaching into full gear here on Geo's Vixens.                                              
And if that wasn't enough, the summer is heating up even hotter with a pinup from yours truly. I wanna tank The Naked Life Coach for both her in-depth naked interview with me, and as well being one of Geo's Vixen for 2014.      
(click the pinup to enlarge)
MISS JUNE