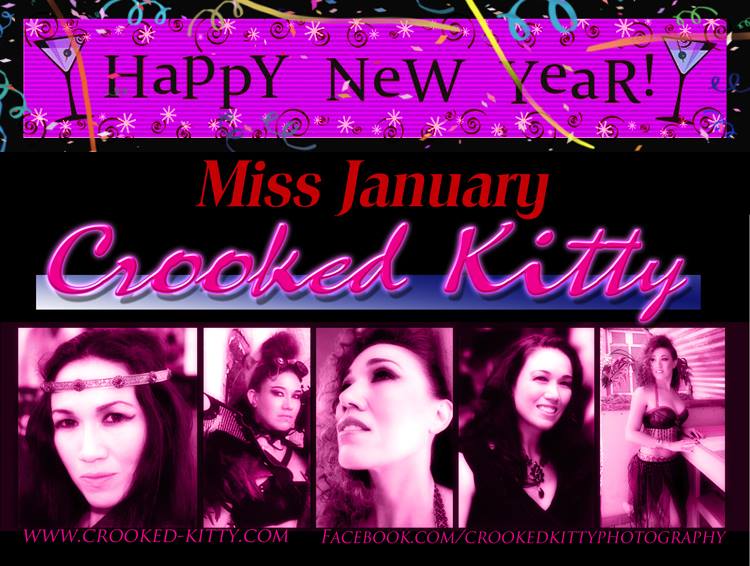 Well it's a new year and with it a whole new group of Vixens just for you to view. And we get this year started off right with this amazing lovely featured for January. Let's here more from Crooked Kitty in her own words.
"Wow, it's another new year already and it seemed to just fly by… Much goodness came out of 2013. And along those lines we celebrated many great vixens each and every month… But the good times don't stop there, not for a single minute.
January 2014 gives us not only an amazing beauty, but also one whose wicked beauty is matched with her amazing intellect as a scientist. She goes by the name Crooked Kitty, and I have a feeling their is even more than meets the eye with this Femme Fatale. Let's hear more in her own words, shall we, In a lil' Q&A?
Crooked Kitty
Scientist by day, photographer and occasional model by night. I've only recently started modeling but my true passion is being behind the camera. I love photography. Capturing the emotional response of a single moment, whether happy or sad, is simply beautiful to me. I also enjoy a very satisfying career as a chemist and in my free time, I like to ride my  Suzuki GSXR600, volunteer at the animal shelter and train in Krav Maga.
Q&A:
Geo: What drew you into your career?
CK: I was drawn into a career in science for several reasons, but mostly because   of my curiosity and fascination with how organisms function on a cellular level and because I like to work independently.
Geo: Is there anything you'd liked to have done different?
CK: If I had to do things differently, I would have focused my career more on genetics instead of organic chemistry.
Geo: What do you love best about what you do?
CK: What I love best about my job is knowing that the research we are conducting is making a difference in people's lives.
Geo: I like that… Greatest achievement?
CK: My greatest achievement was graduating from San Diego State University with a degree in biology.
Geo: That's awesome! What's your greatest moment at a Con?
CK: Greatest moment at a Con was at the San Diego Comic Con where I pretended to choke Hello Kitty Chun Li from behind and she summoned security. It was a very tense moment between the two of us.
Geo: What are your future goals/ambitions?
CK: For my future goals/ambitions, I would love to go on an expedition to Antarctica. I feel like that is the most otherworldly place I can get to without actually leaving the planet, because my greatest desire is to actually travel to another planet.
Geo: What would you tell anyone who would like to get into a career like yours?
CK: My advice for anyone looking to get into a career in science is to work as a lab tech or lab assistant. This will give you invaluable insight and experience.
Geo: Whose your favorite horror character?
CK: Favorite horror character is "Pennywise" from "Stephan King's It".

And if that wasn't enough, this dangerous femme fatale is complete with a pinup by yours truly. Happy New Year Indeed!!!

MISS JANUARY