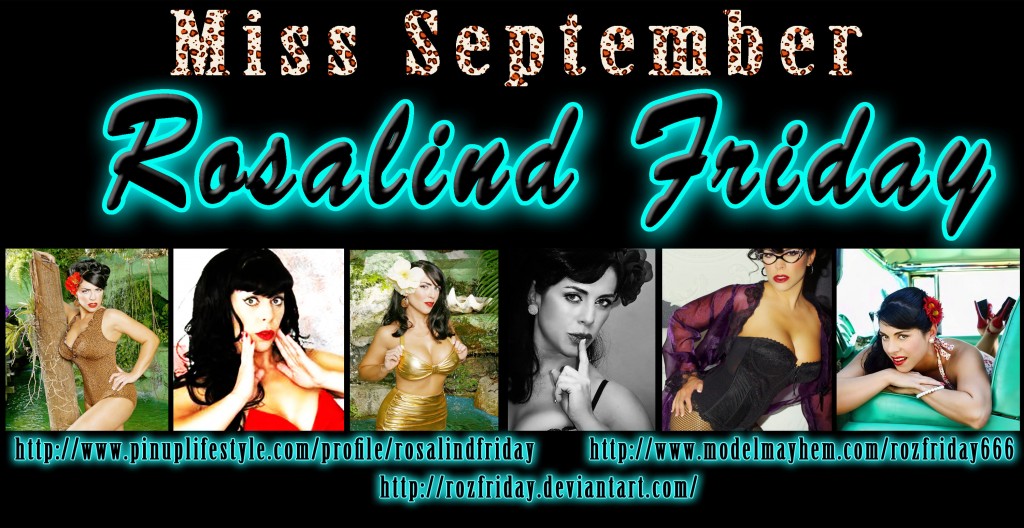 Rosalind is lovely beyond words to say the least, but you can set her in any time period, and you'll still have a girl who fills the mold of that era. 
A vinage style model who has class and glamour, let's learn some more about this vintage-style beauty…
Rosalind Friday is a Central Florida pinup girl and vintage vixen.
Raised on classic Hollywood movies, she worshipped Marilyn, Rosalind, Jane, Mae, Katharine and Marlene as a young girl and the infatuation with Hollywood glamour, vintage style and classy women with curves only continued. Introduced to the work of Miss Bettie Page later on and living in the south where Elvis was a demi-god, it was only natural that she should have a different view of beauty and what was "in" than those around her who held a much more peer-pressured view of you should listen to and find attractive.
These days she divides her time between her professional day job and modeling, co-organizing a Florida based model and photography group and working in a charity costuming group–thats right, this pinup girl also plays Wonder Woman for local visits to children's hospitals and to raise money for worthy charities. She tries to combine her geekdom (love of comic books, sci fi, and fantasy) and pinup whenever she can. Her kryptonite? Just drive a shiny vintage car past, especially an early fifties step side truck and she'll go weak at the knees, but don't worry–given enough styling spritz, red lipstick and a wiggle dress, she's pretty sure she can solve any problem!
Contact information:
http://www.pinuplifestyle.com/profile/rosalindfriday
http://www.modelmayhem.com/rozfriday666
http://rozfriday.deviantart.com/
And if that wasn't enough, let's see yet even more of Miss Friday in this, her feature gallery.

And if that wasn't the cat's meow, here's a lovely design by yours truly for you to enjoy.
MISS JULY