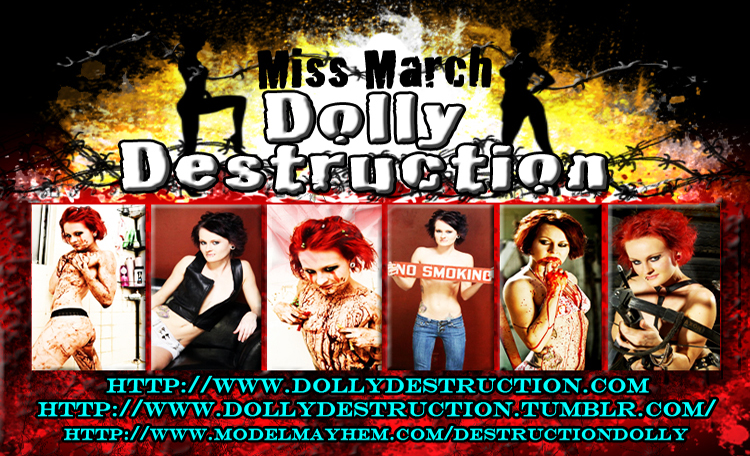 It's the Birthday mont hot yours truly and have I got a present for you… A deadly, most dangerous beauty whose sure to drive you to the edge.
Her name is Dolly Destruction, and she's a wild child to say the least .
Let's learn a bit more about this femme fatale in a lil'
Q&A.
What drew you into your career? 
-From as long as I can remember I've always wanted to be in the spotlight. As a child I had a bubbly personality and naturally people where drawn to me without me even trying. My father is a professional photographer/videographer so I have always been comfortable behind the camera. My whole life has been pretty much documented rather it be on film or videos, and it all started from there! I knew I had what it takes, look different than anyone else out there, and just went for it, I had nothing to lose!
Is there anything you'd liked to have done different?
-If there were anything that I would have done different is that I would have started earlier. I went to castings as a child with my sister but it was always a "2 for 1 deal". If they didn't like the both of us then my parents didn't accept it, so that either one of us didn't get hurt. Sadly I found out later that I was chosen for ones that my sister wasn't but because of that I never got the chance to at the early age. 
What do you love best about what you do?
-I love that I get to express myself in so many different ways. I get the freedom to be a different character, wear extravagant costumes, makeup, and be anything that is asked of me for the time being. There is no other feeling like it!!
Greatest achievement?
-My greatest achievement would be getting my Bachelors of Science Degree in Marketing! I pride myself in going to school and putting in all my hard work and effort knowing that I could do it!!
Greatest moment at a Con?
-I've had many great moments meeting fabulous people, being interviewed, promoting myself, products, and doing sales. My greatest moment so far would have to be right at the end of Adult Con getting to meet Ron Jeremy.
What are your future goals/ambitions?
-My future goals are to continue modeling and broaden my scope, doing as many styles/genre's as possible. I am very versatile and will continue creating art as well as new art until I am able to cover everything! I also am a photographer and am going to do more with my photography, be it setting up my own shoots as well. I will continue to make my own clothing, set up concepts for shoots, and do creative directing. I plan on having a company with my fiancé as well and having others work for us. I also aspire to become an actress and plan on moving forward with more commercials and work as well.
What would you tell anyone who would like to get into a career like yours?
-It takes a lot of hard work and dedication. Lets just say..blood, sweat, and tears!!! And this is not even a guarantee that you'll be
close to being acknowledged by anyone! 
Whose your favorite horror character? 
-I love every and anything to do with horror so this is a definite tough one!! If I were to chose I would have to say Freddy Krueger! This is the first horror character that I remember watching on television when I was a child and I was mesmerized by him! I would always put it on and my sister was terrified, even though she was older than me. There was just something about it that I loved and ever since then I just loved horror, gore, blood, it all is just bloody fantastic!!
Well if that isn't enough to know about this deadly diva, let's see a bit more about her in this, her very own feature gallery. 

Well, now that definitely show the many sides of this destructive beauty. Naughty or nice, one thing is for sure, Dolly can make it happen!!!
And as tradition it's time to show yet another side of Dolly designed by yours truly. 
MISS MARCH