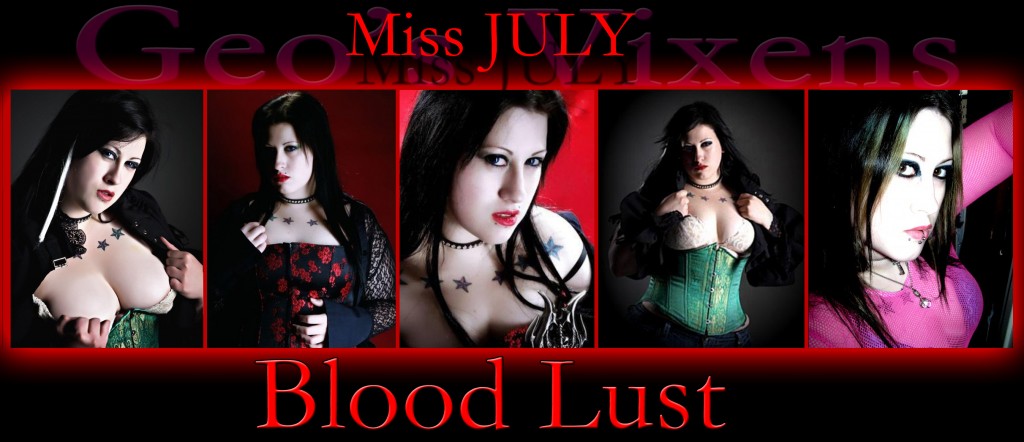 Geo and his Lovely Vixens are back and ready to kick off more great pin-up  treats.
And we're getting July started with some real fireworks action in the form of Miss July Blood Lust. Let's learn more about this ravishing beauty in her own words.
Q&A
Geo – Tell us your name. 
B.L.- my name is Lisa but my model name is Blood Lust.
Geo – Where are you from?
B.L.- I'm from Hewitt, Texas
Geo – Are you going to college?
 B.L.- I have yet to go to college. I want to be sure on what I want to study…and what I want to do for the rest of my life. 
Geo – What do you do?
B.L. – I spend my time with the bf and family. Also I'm working on getting back into modeling.
Geo – What do you really want to do with your life?
B.L.- I have many ideas on what I want to.do with my life. I know I hope to see my face in gothic magazines sometime in the future. 
Geo – Why are you a into Horror?
B.L. -horror hits the right spot. I'm crazy into gore and such. And always looking forward to new horror flicks.
Geo – How old were you when you first discovered that you're a Horror Lover?
B.L. -I found out at young age. I was one of those odd little one. My first horror flick I remember seeing was candy man.  
Geo – What's your greatest HORROR CON Moment?
B.L. – Best horror moment…Hmm, that's a tough one. Now I can tell you a part in a movie that got me all excited. In the film "Mirrors", when the guy's sister was in the bath and began ripping her mouth apart. Yum, LOL.
Geo. Which is your favorite character as a fangirl/GEO'S VIXEN? (horror/super hero/fiction-based, etc.)
B.L.- MY FAVORITE comic character is Thor.  I go by the Norse and cannot help but adore him.
Geo – What drew you into becoming one of GEO'S VIXEN?
BL- Geo is an ama

zing person and great artist. I was honored when he asked me to be his vixen of July.
It is definitely easy to understand why Blood Lust is an amazing addition to Geo's Vixens…
But let's see a lil' more, shall we?? In this her very own feature gallery

And last but not least , The lovely Blood Lust as recreated by yours truly.
In all her lovely darkness!!!
MISS JULY