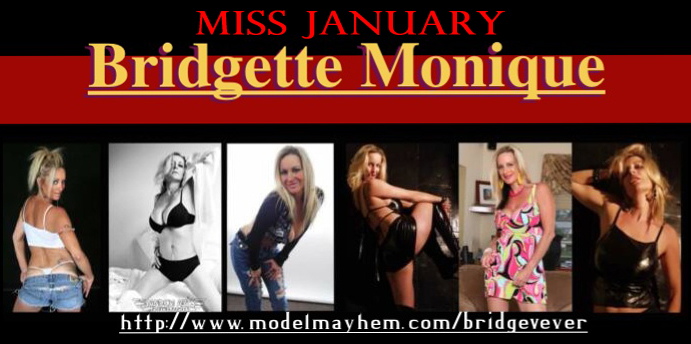 Well the new year of 2013 has arrived, and we are starting off the new year with a BANG
here at Geo's Vixens in the survey for of the lovely Brigette Monique!!!
She's an amazing femme fatale who know just how to make Geo's Vixens sizzle!!!
So let's get started and learn a little more about Miss Monique in her own words!!! 
"
"I am a mature model that has been modeling since I was 16 years old. I have been in the Model/ Entertainment field for a long time. I LOVE THE CAMERA and project this in all my work. I have also been exposed to runway and fashion. At this time, I am interested in print work, live events, Fashion, commercials, acting parts(large or small), I love to do "outside the box" shoots, fitness training shots, dominatrix shots, horror shots, body art, magazine fashion photos, etc. 
If you are contacting me for work, please be as specific as possible: date, type of project, rate, etc. SERIOUS INQUIRIES ONLY, PLEASE.
I have years of experience in all of these realms. Modeling is a strong passion of mine. Very articulate in speaking as well as, beautiful to the eye. I'am DEDICATED AND PUNCTUAL. I go with the flow on any pictures/shoot. I'am professional & easy going. I will travel all over northeast as far as FLORIDA(my home state) to LosAngeles. If there is extensive travel involved, I do need expenses paid. Please inform me with atleast a 24-48 hr notice. Contact me via this site or email i4everflorida@hotmail.com. Thank you! 
***FOR ANY TFCD EXCHANGE 1) No nudes 2) I cannot afford to pay all expenses on my own meaning, travel, gas and up to 6 hours of my time….Therefore, I request that photographers interested in shooting with me for exchange work be only 45 mins or less from me or MEET HALF WAY****I would like to build up my portfolio, exotic ,weird/strange or out of the ordinary shots or basic general shots, commercial pics, but only with local, registered photographers and I do request that photos(CD) be released to me the day of the shoot(meaning please email me atleast a few shots until CD arrives). I would enjoy shooting with photographers that are also traveling thru this area.*"
Thanks and XOXO,
                              Bridgette
Well with years of experience, it's easy to see why Miss January is more than up for a killer photoshoot!!! And that being said, let's see some her past work in this her featured gallery!!!

Guaranteed to warm up those cold January nights, Bridgette has definitely got what it takes. But we aren't done there!! As is tradition here at Geo's Vixen, it's time for a Pinup finale for this month drawn by yours truly.
Again, Happy New Year!! Let's hope the fun times just keep on coming!!!
Cheers and Best!!!
MISS JANUARY