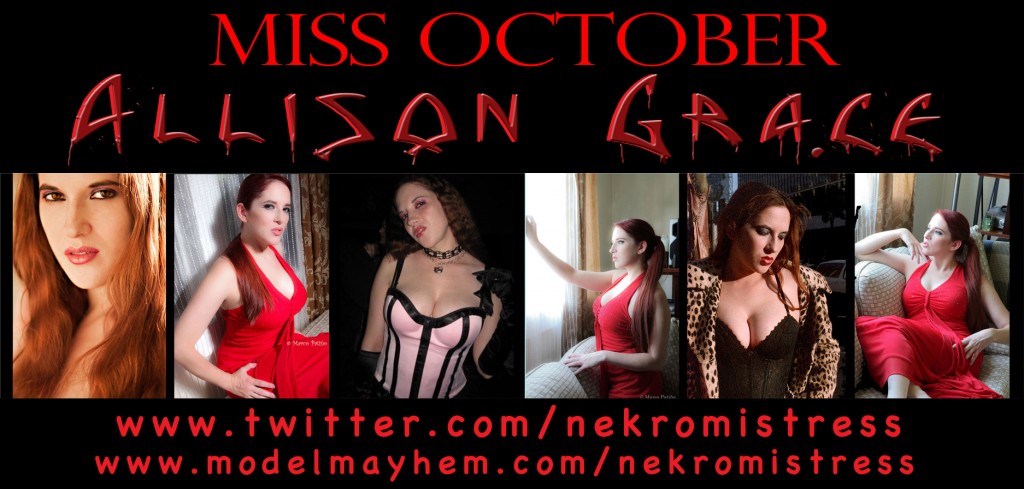 An amazing  and dark beauty Allison Grace is just perfect to share with the month of All Hallows Eve. A lover of all things dark and spooky, she is without a doubt a new level of sexy horror!! 
But let's read more from this dangerous femme fatale in her own words. 
"I really do not know what to say about myself. I am not a professional actress or model and I don't believe I can call myself either of those things. I enjoy the camera and love to do photo shoots for fun. I also have done a couple short films for friends and get myself killed in Los Angeles Ripper that my friend Craig "A Few Screws Loose" Mcintyre is finishing up.
I am a huge fan of horror and exploitation. Some of my favorite movies are titles like Vice Squad, Dawn Of The Dead, Centerfold Girls and many others. I'm also a little obsessed with the Cold War era, WWII movies and history. I just recently finished a course in phlebotomy so I am almost a certified vampire. I plan to go back to school and maybe get into nursing but while I'm still "young" I would like to continue doing photo shoots an maybe "act" in some movies.
A small list of movies I enjoy
Vice Squad Tora! Tora! Tora! Dawn Of The Dead House On The Edge Of The Park The Hard Road The Longest Day Meatrack Race With The Devil Panic In The Year Zero Night Of The Generals Ilsa She Wolf Of The SS Night Of The Hunter Zombie."
Dangerously Yours, 
                         Allison
Well if that wasn't enough, you are in for quite a treat, as Allison displays even more in the dark realm of beauty itself with this, her featured gallery.  

   As deadly as she is sexy, Allison knows  just how to make your blood boil.
And as I like to do here at Geo's Vixens. i present to you a Pinup created by yours truly.
MISS OCTOBER