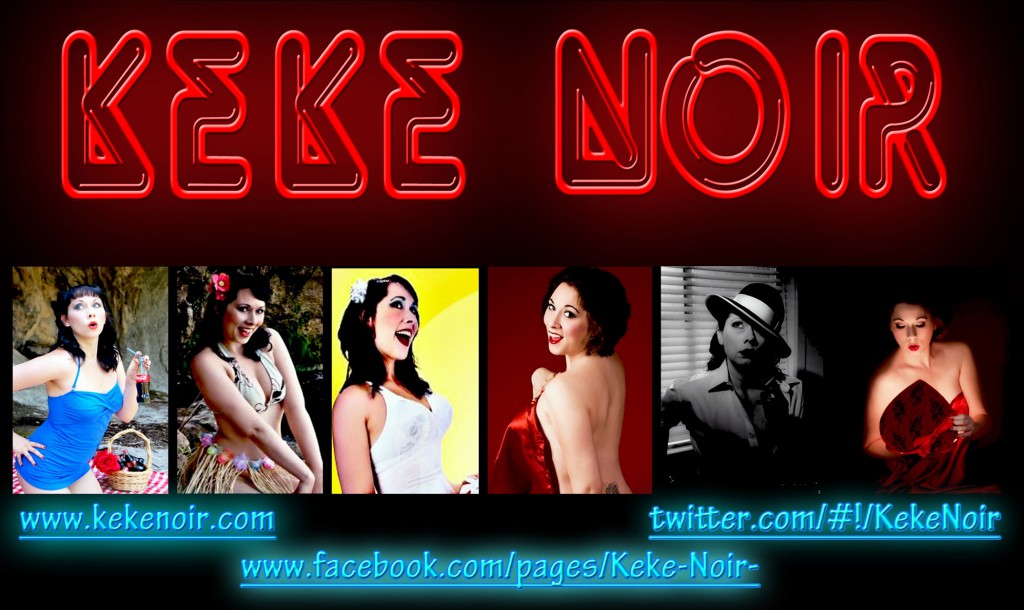 Summer is just heating up and what better way to a start than with Geo's Vixens ..?
This month is no exception, as we have a true American beauty through and through. Her name is Keke Noir, and she's a pinup queen extraordinaire…
She here to tell us more in her own bio feature. So let's get into it!!!!
" I grew up loving classic cars and watching movies with Marylin Monroe, Elvis, Jimmy stewart and bogey. I remember seeing the women in those films and thinking how beautiful and glamorous they were. Then I got introduced to Bettie Page's work and couldn't get enough. I never knew that you could be a real woman and still be a model in this day and age, but I found that real vintage pinups still exist. One day I learned to love my body and myself for what it was and stepped in front of the camera. I guess I do it for myself because it's become a real passion for me, but I do it for other women too, to show you're beautiful no matter what you're size…
 I wish I hadn't been afraid of who I was a lot sooner…maybe that would mean I still wouldn't have so far to go!
 I love being a pinup right now. So many girls think you have to take all your clothes off and pose like a porn star to be someone. I've never done a nude and I'm not particularly seductive. I'm kind of a goofballs and I love that I can be myself and still be sexy!
 That's a hard question to answer. I'm following a dream and that in and of itself is a huge achievement that many people never get a chance to do.
 Never been…but maybe I'll go to one dressed like Leia one day…or an ewok….but I think I'm too tall lol
 I'm not sure what my plans are for the future…I'm kind of in the process of taking things one day at a time. I think it would be the bees knees to be so popular that I'd get the cover of bachelor pad magazine. I'm also hoping I might get to try burlesque one day!
. I'd say to make sure you love what you do, but know you have to do it for you not money or fame. And if you're going to try pinup do your research, love the era, and above all be yourself!
 From the past, Vincent Price. Just hearing his voice can send shivers down your spine. Recent, Freddie Kruger…come on…he had some of the most creative murder plots EVER!
Thanks and Stay Frisky,"
Keke
Oh Keke sure knows how to set this month on fire!!! And to prove it I have her very own gallery feature,
just for you!!!

And if that wasn't enough in this, the beginning of a hot summer   to come… A Pinup by yours truly, of our first vixen of summer—Keke Noir!!!!
MISS MAY