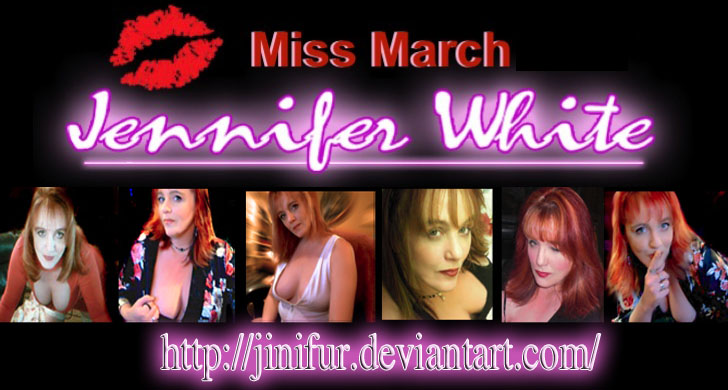 Here we are in one of my very favorite months, yes indeed, it's my B-Day month!! And you are actually the one
who gets the real gift here. The gift of a new vixen beauty, and what a beauty she is. This month we're also changing it up a bit with a new feature with Miss March. We're doing a Q&A with her instead of the typical bio. Let's see what we learn about Jennifer White, Miss March 2012!!!
Here's a Q&A With our Sexy Miss March
Jennifer White
Q:What do you love best about what you do?
 A: Being able to take a mere thought or vision and turn it into something creative and artistic to share with everyone, that will last a lifetime-   And I do love other people who do what i do…  Artistic people can be so eccentric at times!
Q:What drew me into my career?  
  A: Career…..he asks…..  LOL!   I think of it as more like a pleasure zone, that I have been fortunate enough to  be able to pursue.  Since moving here,  I was able to quit my job,  and just do my art, whichever endeavor it may be at that moment in time….It could be my passion for jewelry making,  or it could be painting, or working on my dollhouse ,   my digital art, and plain ol' traditional style drawing.  I really love to do calligraphy too!   I also collect a great many antiques-  it seems that antiques find me,  somehow..I  am an old soul, of that I have no doubt.
Q:My greatest achievement?
     A: my daughter of course!
Q: Goals?
 A: To age gracefully and as little as possible-  LOL!
Q:What is the "Tao" of Jennifer White?
A:Always believe in yourself and know that you can conquer anything.   Keep your nose clean and your name out of the system, and you can do anything you want!
Q: Who is your favorite horror Character?
A: My favorite horror character would have to be Hannibal Lecter. He's sexy and deadly all in one beautiful package.
Well if that wasn't enough for you from this Springtime beauty, we now come to this sensual darlings very own gallery here at Geo's Vixens.

One thing is for sure, Kiddies. When this Oklahoma Beauty turns up the heat, All I can say is Burn Baby, Burn!!!!
That is why Jennifer's this months
Vixen. So let us turn up the heat just a lil' more on these cold winter-like days with Jennifer White.
Miss March