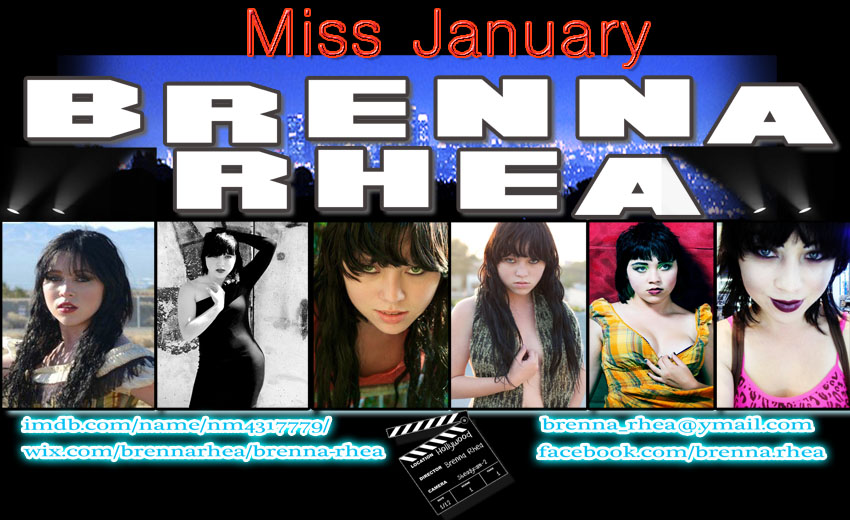 "Actress. Model. Dancer. Choreographer .Writer. Director. 100% Horror Fan.
The name is Brenna Rhea and I am all of the above. I have been acting since I could talk and I have been dancing since I could walk. I started being a model at the age of 13 when I became a Joico/Paul Mitchel Hair model. I have written my own poems, songs, and books along with writing and directing my own short films and theatrical productions. I have choreographed dances and been in various dance companies. But even in this mass jumble my heart has a spot reserved for horror. [=
When asked what drew me into this insane career choice I really don't have an answer. In truth, it all started one summer when I was six and I needed something to do. I randomly found myself in an acting camp and the moment my feet landed on that stage was the moment I knew I wanted to do it for the rest of my life. In six years I did over 100 plays and at the age of twelve I received my lifetime achievement award. I moved out to California to continue my acting dream where I found myself not only in front of a crowd but on set, behind the camera, writing for other people, directing, choreographing, and loving every minute of it.
When Geo asked if I would have done anything different, the answer is, and always will be, NO. Every small step I have taken and every closed-eyed leap has led me to where I have ended up today. I will continue to probably make mistakes here and there but without them I would never have grown and become who I am and where I am today. I have enjoyed the journey and can't wait to see what's next in this rollercoaster ride.
What do I love about what I do? Well I love to entertain. I love being able to bring people enjoyment and have them step out of their lives for awhile and fully be encompassed in the life and troubles of someone else. Whether it be a tension release through comedy and laughter or the jump-out-of-your-skin entertainment of horror; Whenever I am onstage, acting, directing, or writing I just love the feeling of creating characters, ideas, and places that take people out of their life and transport them to somewhere else.
When asked about my future goals the only thing I have to say is: To stay happy. For me happiness is success, so as long as I am happy I am successful. As long as I keep acting and busy working in the field I like then I will be successful and my future will be fulfilled. '
For anyone who is planning on coming and trying their luck in the hectic, crazy field of acting the best advice I could give is borrowed from a good friend of mine. Never give up, never surrender, stay true to thyself, but remember, always be humble.
As for horror and its various movies I have to say the following are my fave:
– SAW
– PSYCO
– THE BIRDS
– THE INSIDE
Thanks Geo for choosing me to be your very first vixen of the month.  Have a great and wonderfully horrifying New Year."
Xoxo,
Brenna
Well if that wasn't enough from this amazing lil' honey, let's see her entire gallery of lovely photos now on her vixen profile!!!

And now for the segment in our feature that is a bit personal for yours truly. Brenna Rhea gets a pinup creation designed by me as her BIG finale for Geo's Vixens.
That's right, Brenna Rhea is sure to do many amazing things in Hollywood and I sure do thank her for being Geo's first Vixen. yes, the first of many to come.
Miss January