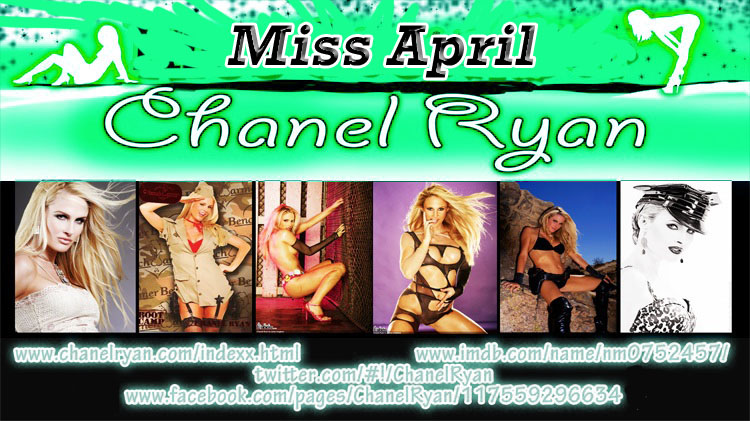 April is a great month for Springtime fun, and do I have a treat for you… Meet Miss April, Chanel Ryan… Who is not only a beauty of a model, but also an actress
whose loveliness is easy to see, even when she's drenched with blood in any number of horror movies she's been seen in. 
But let's hear a bit more in this Q&A with Chanel.
 Q&A
Q. What drew you into your career?
A. *  I originally got into the entertainment business when I was a teenager. I
 was approached while laying out out on the beach to model for a swimwear
 campaign – free bikinis and getting paid to hang out on the beach in tropical
 locations!  A few weeks later I was at the park with a girlfriend and we were
asked to audition for an ad campaign – we both got the job! Shortly after that
 I was having dinner with my girlfriends at their parents house (we were still
 in high school) and their older sister was doing wardrobe on a film. The
 director happened to be at dinner and asked us if we wanted to be in the movie
 – of course we said yes!! Things kind of escalated from there and I started
 working all the time and moved to L.A. Truthfully I wasn't qualified for
 anything else and at the time thought it sounded like all fun in
Q. Is there anything you'd liked to have done different?
A.  Sometimes I wish I would of would have modeled less over the past few years
 and stayed in town to focus on my acting career.  But then I remember all the
 amazing places I've traveled to for work, the interesting people I have met,
 and wonderful experiences I have had an wouldn't change a thing!
Q. What do you love best about what you do?
A. I am constantly inspired and motivated by the talented, artistic people I am
 lucky enough to work with.  Traveling to exotic locations and getting to see
 the world is not a bad perk either!
Q. Greatest achievement?
A. I'll let you know when I achieve it . . .
Q. Greatest moment at a Con?
A. Its always fun meeting fans and friends I know thru Facebook, twitter, etc and
 putting faces with the names & photos, and catching up with people I have met
 over the past few years.
 A couple years ago at Detroit Motor City Con. I am in a film called
 "Hobgoblins 2" from director Rick Sloan. I had no idea the film was being
released on DVD the following month. So I show up to my table and their are a
group of guys waiting for me with photos of me as my character "Fantazia" from
 the film. Fun way to find out the film was being released! Later I went back
 to my hotel room & watched the "Hobgoblins 2" trailer and saw the clip of
 myself pouring jello down my top and realized why I was so popular with the
 boys! – Oh well, I'll take it!
Q. What are your future goals/ambitions?
A. To rule the world!
Q. What would you tell anyone who would like to get into a career like yours?
A. Don't do it!! . . . .  But seriously, I love what I do but I think there is a huge
 misconception that it is all glamour and fun.  When you are self employed
 there are not enough hours in the day.  Sometimes I think people are blinded
 by the perks and don't view acting/modeling as a business.  It is a job just
like any other which requires hard work. 
Q.Whose your favorite horror character?
A. There are sooo many to chose from: 
Ash for "Evil Dead", Jack from the "Shining", Samara from "The Ring"
Also  Look for me in the films 'BAD KIDS
 GO TO HELL", "SMALL APARTMENTS", AND "SKUM ROCKS"
Visit me online at:
 http://www.imdb.com/name/nm0752457/
> www.chanelryan.com
 http://www.facebook.com/ChanelRyanOfficial?ref=profile
http://twitter.com/ChanelRyan
 www.myspace.com/chanelryan
 Thanks so Much!!
          Chanel
As you can see Chanel is just an amazing talent and ever so sweet!!! But that's not all as we delve into this deadly femme fatale very own gallery here just for you!!!

Wow… For a month in spring, Chanel sure makes it feel like the heat of summer, and it doesn't end there…
As it's becoming tradition by yours truly.
This is Chanel's Pinup creation.
MISS APRIL