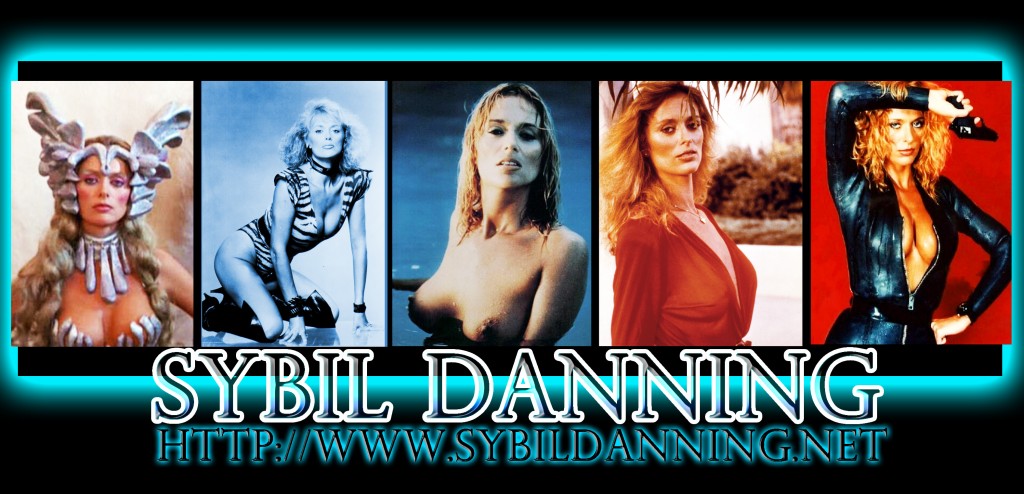 Every so often here at Geo's Vixens, I like to mix it up a bit, and take a look back on just why I enjoy doing Geo's Vixens so much. And a big part of it… The main part is the lovely femme fatales who inspired me doing this in the 1st place. And Ms. Sybil Danning is exactly that kind of beauty. I call this Geo's "RETRO" Vixens and let's read a bit more on the lovely and talented Sybil right here on her very sultry feature.
Tall, leggy, buxom and statuesque 5'7″ blonde beauty Sybil Danning reigns supreme as one of the sexiest, most dynamic and commanding actresses to achieve cult B-movie queen status. She was born Sybille Johanna Danninger on May 24, 1952, in Wels, Austria, the daughter of a US Army major father and an Austrian mother. She grew up on army bases in such places as New Jersey, Maryland and Sacramento, California. Sybil attended Etontown's Star of the Sea Catholic School. At age 14 she worked for her uncle as a dental assistant. Two years later she moved to Vienna, Austria, and worked for a dental supply company. She then relocated to Salzburg and worked as an assistant to a top oral surgeon. Danning then enrolled in the Buchner School of Cosmetology in Salzburg and received a diploma in facial treatment, decorative make-up, manicure and body massage. She soon began doing fashion shows and photo layouts. Danning made her film debut as Lorelei in Komm nur, mein liebstes Vögelein (1968). She next portrayed Kriemhild in The Long Swift Sword of Siegfried (1971). Sybil studied for three years with noted Munich drama coach Anne-Marie Hanschke. Sybil made memorable appearances in such mainstream features as Bluebeard (1972), The Three Musketeers (1973), Crossed Swords(1977) and The Concorde… Airport '79 (1979). She also continued to act in such enjoyably lowbrow exploitation items as Naughty Nymphs (1972), Das Mädchen mit der heißen Masche (1972) and Cat in the Cage (1978). Danning was especially excellent and impressive as the fierce Valkyrie warrior Saint-Exmin in the science-fiction cult classic Battle Beyond the Stars (1980). Other notable roles are tough prison inmate Ericka in the babes-behind-bars classic Chained Heat (1983), a formidable female swordfighter in I sette magnifici gladiatori (1983), wicked werewolf queen Stirba in Howling II: … Your Sister Is a Werewolf (1985), a cunning femme fatale English professor in They're Playing with Fire (1984), the Queen of the Moon in the hilarious Amazon Women on the Moon(1987), the strict Warden Sutter in the amusing chicks-in-chains parody Reform School Girls (1986), an alien queen in The Phantom Empire (1988) and a rugged lady bounty hunter in L.A. Bounty (1989). Sybil has done guest spots on the television series Vega$(1978), Simon & Simon (1981), V (1984), Masquerade (1983), The Fall Guy (1981), Deadly Nightmares (1983), Street Hawk (1985) and Superboy (1988). She did a ten-page pictorial for the August 1983 issue of "Playboy". Outside of acting, Danning has also worked on several movies as a producer and wrote the story for "L.A. Bounty". After a regrettably lengthy absence from acting, Sybil Danning has made a welcome comeback by appearing as an evil Nazi villainess in the "Werewolf Women of the SS" mock trailer for Grindhouse (2007) and a nurse in Rob Zombie's remake Halloween (2007).
In 2003, Danning returned to public performances. She started by appearing in the fan memorabilia convention circuit, with appearances in California, Chicago, Illinois, Georgia, Michigan, Ohio, New Jersey, among others. The Chiller Theater in New Jersey included footage of Danning in her first appearance in its 2004 documentary, UnConventional.[1] The year 2007 marked Danning's return to the big screen, most notably in the film Grindhouse, in a faux trailer titled Werewolf Women of the SS. This was followed by her appearance in Rob Zombie's remake of Halloween. In 2008, Danning returned to Europe to film Patrick Swayze's last film Jump!. She then appeared in the third season of cable series The Lair as Frau von Hess, a sinister vampiress out to kill the vampire whose influence over her son caused her transformation. In 2010, she played the maniacal Danita Herrington in independent horror film Virus X. In 2011, she starred in and produced a music video for hard rock band The Last Vegas.
And if all that wasn't enough, let's see a bit more of this radiant and exotic European beauty in her featured gallery. 

Well if that wasn't enough, here's Sybil's sexy pinup by yours truly. and with this stunning beauty one pinup wasn't enough. Enjoy!!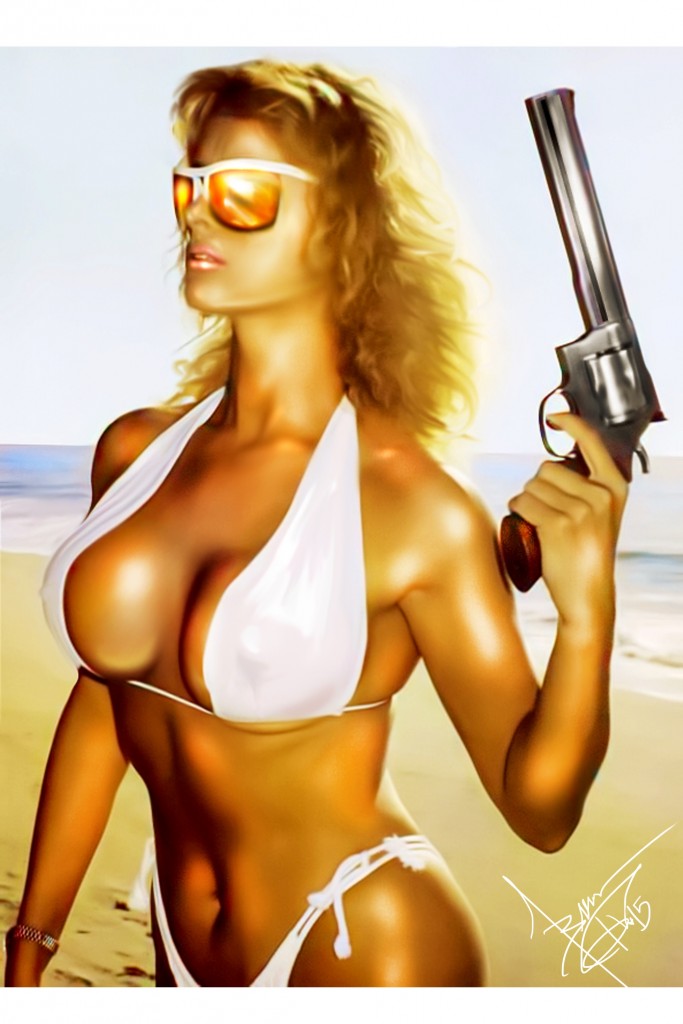 And for the variant on this one (below). Goto my patreon page
Become a patron, see this variant in all it's glory.