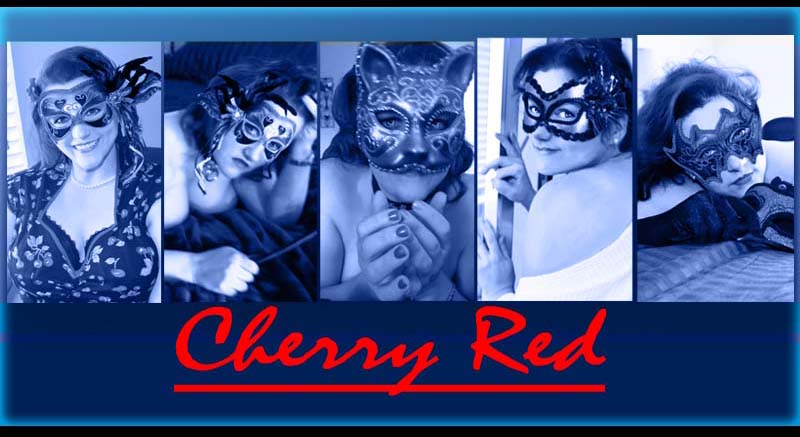 Well here we are with the Spring in full bloom. Yours truly takes time out from dancing through the meadows to bring you an all NEW Geo's Vixen. And this month we have a real delight. Cherry Red is a little slice of Heaven. A fallen angel brought down in the guise of the girl next door.
This lil Texas peach hails originally from San Antonio, and was good enough to fly down and pose for yours truly here at Brawn Manor.
She's not a professional model, though, when I say she's the girl next door I mean it, as Miss Cheery Red is having her debut here for all of you this month.
Thats right, her first time ever posing and it's here n Geo's Vixens. Now even though this is her maiden voyage into boudoir modeling, Cherry does have a bit of a dark side. And being recently inspired by a "Shady" lil movie that just came out, she wanted to do something that had sizzling hot erotica in mind…
And with that let's here a little more in Cherry's own words.
"My name is Cherry. Some call me Fiery, hehe…Even though this is my first photo shoot, I was really comfortable doing it. I was relaxed and this wave just came over me as the camera was clicking away. I wanna thank Geo for not only snapping this shoot personally and making it so much fun, but also for giving me the chance to explore this new side of me and help me realize… I really like it. Nudity is not something dirty to me even though I grew up in a conseervative religious household. I never thought of being naked for the world to see until I met Geo and realized why there hell not?? I'm thirty-something and with natural 34″HH breasts not your typical size girl. When I was younger as a teen and already had DD's, it made me feel awkward, but then I realized something… I'm me, and I like being me. And that led this Texan-girl to take the next logical step… Enter Geo and his camera for Geo's Vixens 🙂
It was fun working with you, Geo,thank you so much for my
little photo shoot! " 
           

~Cherry
Well now, the pleasure was all mine. I do like to not only photo direct how the shoots go when I can, but I've grown to really enjoy shooting the pictures myself as well, and this was no exception. Cherry, you were so awesome and natural. I could be happier to have you as a vixen. 
And with that… Let's see some more fun with Miss April, Cheery Red. 

Well, Miss April has quite a gallery indeed. She is a sight to see, no doubt about it. 
And we're not done yet as is customary here at Geo's Vixens,  we close off this month's radiant vixen profile with a pinup creation by yours truly. Thanks again to Miss Cherry Red and to you for coming along for the ride!!!
MISS APRIL