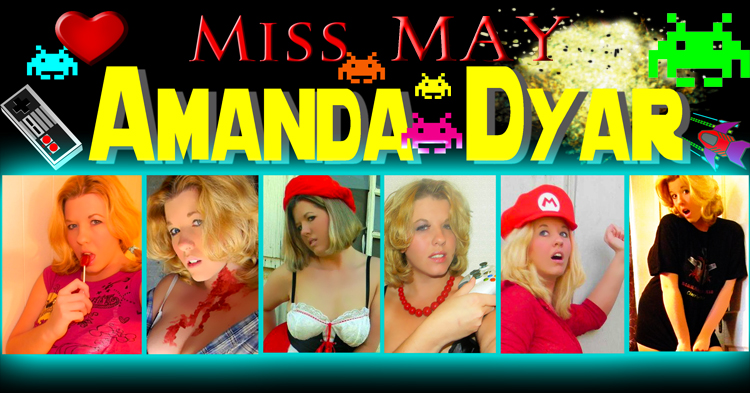 It's the Month of May, and what a month it is… Because Miss May is Amanda Dyar… Actress, writer, radio-host, and Editor-in-chief of Gamer Girl Magazine, as well as the most amazing
gamer-geek I've ever had the pleasure to to know. . I did an interview for her and BioGamer Girl Magazine for my work as a graphic novelist and I must say it was quite a pleasure. 
But let's hear more from Amanda in this very kick-ass Bio. 
Amanda Dyar is a writer, mental health counselor, mother, grad student, gamer, and a horror addict just to name a few of the social roles she plays. She grew up in the south and currently resides in a quaint farming community in Dawson, Alabama. She has five degrees with her most recent one in the field of Psychology with a minor in Behavioral Science. Her down time is spent writing and currently she is Editor-in-Chief of BioGamer Girl (BGG) which is a magazine dedicated to girls, horror culture & gaming.  She is also a radio host known as Mistress Barbie for BGG's Undead Noise that gives you interviews from everything gaming & horror related with guests such as John Russo, Adrienne Wilkinson and Kane Hodder to just name a few. Some of her hobbies include graphic and website design, photography, game programming, animation and just about whatever else she can find to appease her mind for short periods of time. Growing up with a strange love of the undead creations from John Russo & George Romero's 1968 "Night of the Living Dead" led her to where she is today. Amanda is cast to play Maddie in Daniel Emery Taylor's film, "Fat Chance." She will also be appearing in Comic Book Divas and Legend of Heroes & Villians' comic parody of "The Birds" called "Squirrel" alongside P.J. Soles, Rhonda Shear, Kristen Hall and Lily Cardone. She is also competing in Fangoria and B-Movie Celebration's "Scream Queen Contest" which will be taking place in Franklin, IN on September 23-25, 2011 along with 15 other contestants which include Monique Dupree, Tara Cardinal, Michelle Shields and Nicki Kruex to name a few."
  Thanks,
   Amanda
BioGamer Girls website http://www.biogamergirls.com
BioGamer Girl Magazine Blog  http://www.biogamergirl.com
B-Movie Celebration  http://www.bmoviecelebration.com
BioGamer Girl on Wikipedia http://en.wikipedia.org/wiki/BioGamer_Girl_Magazine
Well damn!!! We are not done yet, as Miss Dyar was happy to even do a Q&A with us for this very special feature on Geo's Vixens. 
Let's see what else we can find out from this gamer femme fatale…
Q&A
What drew you into your career?
Which one? (laughter) 
I have always been the type of person to pursue any goal relentlessly until I have achieved it. I started writing stories when I was 5 years old. My brother and I would spend hours making up stories and then I would write them while he drew the art. As the years went by then I moved into other fields that had a more stable income in order to financially support my family. Writing has always been my passion, so I always found the time to get it in with all of my freelance projects on the side, such as a lifestyle columnist for the local paper. In 2010, I decided to start up my own magazine called "BioGamer Girl" which is dedicated to girls, horror & gaming. Three of my favorite things! The ability to let loose creatively is one of the reasons I started the magazine and pursued a career in this field. It allows me to tell my story in my own way! Each issue is like my own unique story book that I get to share with the world. 
Is there anything you'd liked to have done different?
Regrets are a part of human nature.  You have to live with the decisions made and move forward. I am 29 years old and turn the big 3-0 in January.  As I approach middle age, then I think of all the things that I could have done differently. I was a young mother, my two kids are 10 & 9 now, and I realize that the decisions I made were the "right" decisions at that time. Now as I step into another part of my life then the things I want have changed. Finally, I have the time needed to pursue all of the dreams that I had initially thought I had left behind. 
What do you love best about what you do?
I love being able to show the world my true self through my career and hobbies. I was able to work hard all of my life until I got to a point where time permitted me to pursue some goals from the "back-burner." Growing up I was told by many teachers along with my parents that "writing" wasn't a REAL job. The fact that I can set down and make money doing something I love is still mind boggling to me. It also shows that you should never listen to anyone else when it comes to what you want with your life; it is YOUR LIFE. You only live once so do what you love with what little time you have here on Earth. Another dream I had as a young girl was I always wanted to pursue acting & modeling. I have finally got the chance to do that when Daniel Emery Taylor cast me in his film, "Fat Chance," and Legends of Heroes & Villains/ Comic Book Divas allowed me to model for their comics. The phrase, "Living Your Dream," definitely applies here.
Greatest achievement?
My greatest achievement is my two children. Everything I do in life is for them. They make me want to be a better person and to live up to the role model that they see me as. I want to show them that they can be successful in life but most importantly they can be happy while doing it. No goal is impossible or beyond reach but some just require more effort to achieve. 
Greatest moment at a Con?
The greatest moment I have had at a Con had to be "Days of the Dead" in Indianapolis, IN during 4th of July weekend. I do conventions to meet the people I work with along with fans & friends. For the last year I have been hosting a radio show called "Undead Noise" as the persona Mistress Barbie along with my co-host the Primal Root (Kevin Cole). One of the best moments at a convention was meeting my co-host for the first time face-to-face. It is amazing to think you can work with someone that long and never actually "meet" them. The age of technology allows us to do any task from any place in the world now but it also takes away from the personal interactions we use to have. I knew we got along great as Mistress Barbie and the Primal Root on the air but once we met it was like an instant connection. That was probably one of my greatest convention moments as well as getting to hang with the wonderful John A. Russo at "Days of the Dead" and just chat about work, life and everything in between. I never thought I be telling the zombie legend himself about my days of playing high school football. (laughter)
What are your future goals/ambitions?
My future goals and ambitions are to just keep doing what I love and to be happy doing it. I would hope to eventually write for some of the magazines I have always loved such as "Fangoria" or "PC Gamer" as well as maybe act in a few zombie films. Everything is up for grabs in this world and my goal is to just take in as much as I can while I am here. The thought had crossed my mind about running for President one day, I mean if George W. Bush can do it…. (laughter)
What would you tell anyone who would like to get into a career like yours?
With anything in life, don't take "NO" for an answer when it comes to your career. If you want it, then keep on until you get it. If you want to work for a magazine, model, or act then you are going to have to beat out a lot of competition. Brand yourself and make people take notice! If you don't do this then you will fall between the cracks and be passed by. My advice from working in Human Resources and Mental Health for years would be to make you a SWOT analysis. This is a strategic planning method that will allow you to evaluate your strengths, weaknesses, opportunities and threats. Then use your strengths to improve your chances to reach the goals and opportunities you want while at the same time working on your weaknesses to reduce threats that will hinder you. 
Whose your favorite horror character? 
My favorite horror character is the ZOMBIE! I have a strange love for these undead creatures. I will watch a horror movie with zombies in it even if it is terrible or in different languages with subtitles. I can never get enough! Obviously this is why I love John A. Russo and George A. Romero for creating the zombie genre we know today. 
 Well I tell ya, Amanda is an amazing combination of both beauty and brains… And that being said, let's see a bit more
of her beauty in this most awesome  Feature Gallery…

Amazing how this gamer girl extraordinaire just keeps getting better and better…
And no beauty feature would be complete at Geo's Vixen without a pinup created by yours truly. 
MISS MAY